Kathryn Elizabeth Kropp, VMD,
Dr. Kropp is a native of Tamaqua.
She graduated in 1988 from Tamaqua Area High School and went on to complete a BS in Animal Bioscience from Penn State University. She earned her veterinary degree in 1995 from the University of Pennsylvania. After working in two other small animal practices for several years, she returned to the Tamaqua area and founded Companion Animal Hospital of Tamaqua in 2002.

She enjoys all aspects of veterinary medicine but has a special interest in surgery and diagnostic ultrasound. Continuing education is a priority to Dr. Kropp, and she attends more than 30 credits of advanced learning annually. Her practice philosophy is that if she can't help your pet, she will help direct you to a specialist who can.
Outside of the hospital, Dr. Kropp resides with her husband Michael, son Peter, Jack Russell terriers William and Chip, Lab mixes Teddy and Joey, horses Impy, Duncan and Dante, one hermit crab, many tropical fish, and goldfish. She enjoys horseback riding, biking, reading, music, gardening and all outdoor activities.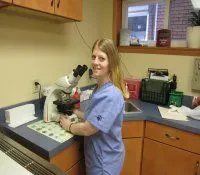 Jennifer Ryscovyan
Jenn became a hospital team member in 2010 working as a veterinary assistant. She came to thehospital with no previous medical training but has gained experience and knowledge very quickly. Jen is a big part of our behind the scenes work in surgery and nursing. She is also likely the person you will see if you schedule a tech appointment for certain vaccination boosters, laser therapy and bloodwork. When she is not working at the hospital, Jenn enjoys spending time with her husband Jimi, daughter Hannah, adorable Havanese Tobbie, pug mix Eloise and two cats.
Justin Moll
Justin has been working at the hospital as a General Assistant and Kennel Worker since 2008. He is always willing to lend a hand wherever he is needed and has been a great help to the hospital. Justin is a huge Pittsburgh Steelers fan and loves to watch movies. Justin has an adorable terrier mix named Chloe.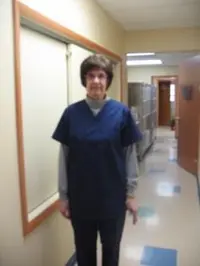 Charlene Valentine
Charlene is our team leader in the reception area. You can always expect to be greeted with a friendly smile when she is working. She was a previous elementary school teacher, but she wasn't ready to retire so she came on board with us. Currently she has no pets and has to be satisfied with baby-sitting her granddogs, but we are trying to sweet talk her into having another dog of her own.
Michael McGinley

Mike has been a part of the hospital since it's first inception. He works primarily behind the scenes, helping wherever we need him. When not working he enjoys spending time with his family, vacationing at the shore, fishing, biking and outdoor activities
Brittany Condrack
Brittany has been with our team for several years, starting first as a receptionist and currently working as a technical assistant. she is trained to perform therapy laser, administer booster vaccinations and often is the person you will see if you schedule a nail trim appointment for your pet .She is the brains behind our Facebook page and initiates most of our online contests. She is a graduate of Tamaqua Area High School and also completed a certification in marketing at North Schuylkill Technology Center where she was awarded with the honor of being the top VoTech student in both North and South Campus. Brittany is the proud owner of a Papillion pup named Nena and a little dog named Murphy, and two rescue cats named Phaeris and Odin.